ADSIL MICROGUARD – PROTECTIVE COATING in SAN DIEGO
Pure Light Cleaning is a certified applicatior for Adsil MicroGuard. Pure Light Cleaning is a California certified applicator and installer for Microguard®, a protective clear coatings for non-ferrous metal corrosion protection, mold, mildew mitigation on numerous interior or exterior surfaces for Industrial or commercial use. Bring your tile floor or other surfaces back to life and protect them for decades into the future!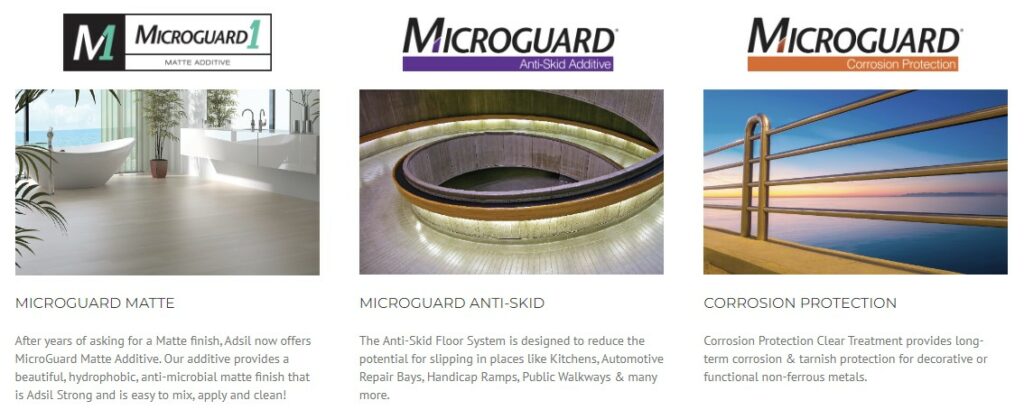 Our new MG1-1500 provides a long-lasting, stunningly beautiful, sustainable, and non-sacrificial finish that protects tile, stone, terrazzo and concrete surfaces from abrasive wear, mold, odor, and chemical attack. Now LOW VOC and ONE-COMPONENT.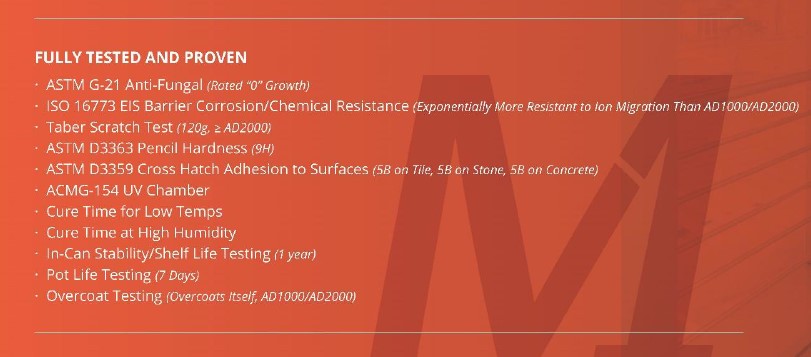 Our new MG1-1500 provides a long-lasting, stunningly beautiful, sustainable, and non-sacrificial finish that protects tile, stone, terrazzo and concrete surfaces from abrasive wear, mold, odor, and chemical attack. Now LOW VOC and ONE-COMPONENT.

Adsil manufactures unique products for unique surface requirements. Surfaces such as ceramic tile, either vertical walls or horizontal flooring, terrazzo, and decorative stone are all highly suited to receive MicroGuard® product finishes. Horizontal tile & grout flooring and epoxy terrazzo flooring are ideally suited for MicroGuard® AD708 Hard Tile Clear Treatment. Porous grout lines will be effectively sealed so that dirt and stains will not penetrate. The surface becomes much easier to clean and maintenance costs are reduced. MicroGuard® AD703 is ideal for coating natural concrete terrazzo floor surfaces.

Non-Ferrous Metals are best coated with MicroGuard® AD95 Corrosion Protector Clear Treatment. This coating is designed to protect most non-ferrous metals or stainless steel, which are subjected to the rigors of ambient exposures. MicroGuard® AD95 is a low-solids, surface enhancer & protectant that can be applied to numerous surfaces in the hospitality, restaurant, and medical industry. It can be used to protect and beautify stainless steel, aluminum, bronze, brass, or copper.

The MicroGuard®/MicroGrip™ Anti-Skid Floor System is designed to reduce the potential for slipping hazards in:
Commercial Kitchens
Food Service Lines
Automotive Repair Bays
Handicap Ramps
Public Walkways & Stairs
And Many More Place


MicroGuard®/MicroGrip™ outperforms other competitive anti-skid floor systems, is competitively priced and may be applied to many rigid floor surfaces in commercial, industrial or residential environments.
MicroGrip™ Anti-Skid Media, combined with MicroGuard® clear siloxane floor treatments, deliver increased traction, chemical and abrasion resistance properties to concrete, hard tile, terrazzo and quarry tile floors. This system will not support mold growth and is easier to clean and maintain. Because the system is clear, it maintains floor color without sacrificing traction properties.
Adsil's patented clear siloxane treatments extend the performance life of the surface, while also reducing cleaning & maintenance costs. This Anti-Skid system is easy to install and accommodates busy operating or construction schedules.
Reduces Slip & Fall Risks
Excellent Abrasion Resistance
Easy to Clean & Maintain
Maintains Floor Color
Highly Resistant to Chemicals
Impervious to Standing Water

Adsil manufactures several MicroGuard® products that can be applied onto bare concrete or other masonry surfaces, such as brick, pavers, decorative stone, stucco or concrete/polymer blends. These product finishes can be used for either interior or exterior surfaces and Adsil has designed products for both horizontal and vertical applications.
For concrete type surfaces where graffiti is a problem, Adsil has developed MicroGuard® AD00 Anti-Graffiti Clear Surface Treatment. This clear, inorganic, cross-link cured product is a non-sacrificial anti-graffiti coating. Its tightly knit film structure will not allow penetration of common graffiti material, so it lifts more easily from the surface.
MicroGuard® AD702 Sealer penetrates deeply into concrete surfaces and effectively fills the concrete capillaries. This inorganic sealer will not saponify. MicroGuard® AD702 Sealer is designed to be applied prior to the application of MicroGuard® AD703 Concrete Clear Treatment, as part of a complete system. When used as a sealer/finish system on interior concrete type horizontal surfaces, these products provide maximum abrasion, ablation and chemical resistance properties. AD703 Gloss Finishing Treatment can be used for exterior applications as a 'wet look' impregnating sealer.

Much energy, time and money is expended in the removal of graffiti. MicroGuard® AD00 is a high-performance surface treatment that provides protection against the attachment of paint, crayon, inks and magic markers for graffiti or tag marks on stainless steel or non-ferrous metals, fiberglass, signs, concrete and painted surfaces. The treatment is also resistant to chemical attack and exhibits outstanding resistance to solvents, acid and alkali exposure. The unique formulation of MicroGuard® AD00 will not break down from UV exposure, as compared to other competitive coatings.
AD00 can be used in protecting painted metal, benches, bathrooms, interior and exterior walls, elevators, stainless steel, non-ferrous metal, painted or bare masonry and concrete.